Paracom is always looking for dedicated new talent. If you are an aspiring or experienced fire alarm or security technician seeking a fulfilling career working in the field, Paracom could be right for you. We provide valuable career mentorship, great pay and benefits, and opportunities to work in new locations all over Colorado.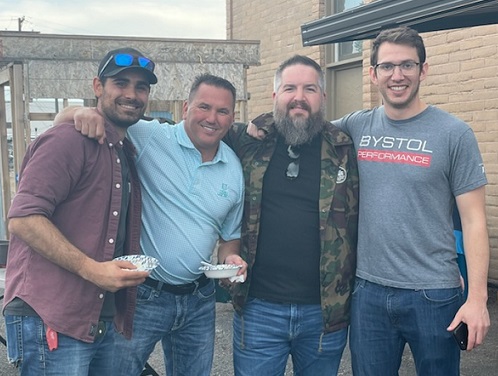 Through UnitedHealthcare and UMR Benefits they have created and published the Machine-Readable Files on behalf of Paracom Systems.
To link to the Machine-Readable Files, please click on the URL provided: transparency-in-coverage.uhc.com
Complete the form below and send in your resume. If you meet our requirements, one of our team leaders will contact you to discuss open positions and details.

Fire Sprinkler Service Technician
The Fire Sprinkler Service Technician will assess, correct, and repair deficient or malfunctioning sprinkler systems which may include fire alarm systems including cable management, electronic locks, Wi-Fi locks, network switches, point sensors, signaling devices and associated hardware. As a Service Tech, this person is expected to be a highly skilled leader on the Service team reflective of Paracom's Core Values and Mission.
Pay: $26.00 – $40.00 per hour
Schedule: Full-time, In Person
Experience:
Fire Sprinkler Systems: 5 years (Preferred)
Essential Job Functions:
Assists the Service Manager regarding on-site scheduling of work activities and timely delivery of equipment.
Provide the Service Manager with daily progress/status reports for each Service ticket.
Performs quarterly and annual Fire Sprinkler Inspections.
Inspects Fire Protection Systems and components according to NFPA standards.
Utilizes web-based inspections programs via company iPad.
Tests and inspects diesel and electrical fire pumps.
Tests and inspects fire extinguishers.
Performs weekly and monthly fire pump churns.
Trouble shoots Fire Sprinkler systems.
Perform Fire Protection Systems maintenance as needed.
Assists in the resolving of deficiencies found during a Fire Protection Inspection.
Manage and mentor apprentices on a regular basis
Tests and inspects backflows.
Not required, but a plus- Troubleshoots and remediates malfunctioning fire alarm systems, Intrusion alarm systems, access control systems, CCTV & IP Video systems along with system listed in the purpose section above.
Ability to commission and execute during the final inspection and turnover to end-user.
May be assigned as installer for various projects when service work is limited.
Performs other related duties as assigned.
Outstanding customer service skills
An understanding of communication systems and how they work
Complete understanding of inspection and testing of Sprinkler and/or Fire Alarm systems per NFPA
Proficient in the use of Threader, test meters and other diagnostic equipment
Ability to use hand tools and power tools
Ability to communicate effectively with peers and supervisors
Excellent analytical and problem-solving skills
Willing to learn new job-related skills and/or update skill sets
Work and coordinate with electronic FA and security partners.
Runs piping in crawl spaces; related activities to include drilling, trenching, and aerial runs
Completes all Piping, connections, and equipment installations, ensuring that systems are complete and operational according to contract requirements
Troubleshoots new system installations to ensure that they are functioning properly and that they meet local, county, state and/or federal codes and any licensing and/or insurance requirements
Supervise several teams of Tech I's and II's concurrently
As Paracom is a small employer, employees are expected to maintain regular and punctual attendance at the office and/or appropriate jobsite assigned by manager
Knowledge and Skills
High School Degree or equivalent is preferred
Denver license for inspecting Fire Extinguishers
Must hold valid state issued Driver's License with a clean driving record
Minimum 5 years' experience inspecting and testing Fire Sprinkler systems using guidelines from the NFPA
Good verbal and written communication skills
Ability to establish and maintain effective working relationships with both internal and external customers
Strong troubleshooting skills and mechanical aptitude
Ability to meet deadlines
Ability to be on-call on a rotational basis (paid)
Must be detail-oriented and organized
Possess or have ability to obtain proper state licensing once hired (licensed in Denver & CO Springs, etc.)
Ability to complete time entry from home daily via the internet
Ability to deliver product familiarization training to end-users
Strong proficiency in MS Office products (Word, Excel, and Project)
Ability and track record of successfully loading servers with third party applications
Overnight travel may be required on an as-needed basis
License and/or certification requirements
Must possess a Nicet Level II or greater
If Nicet Level II is not in possession, the candidate must possess both a Denver and Colorado Springs or CO Fire Sprinkler License.
Backflow Certification
Fire Extinguisher License/Certification