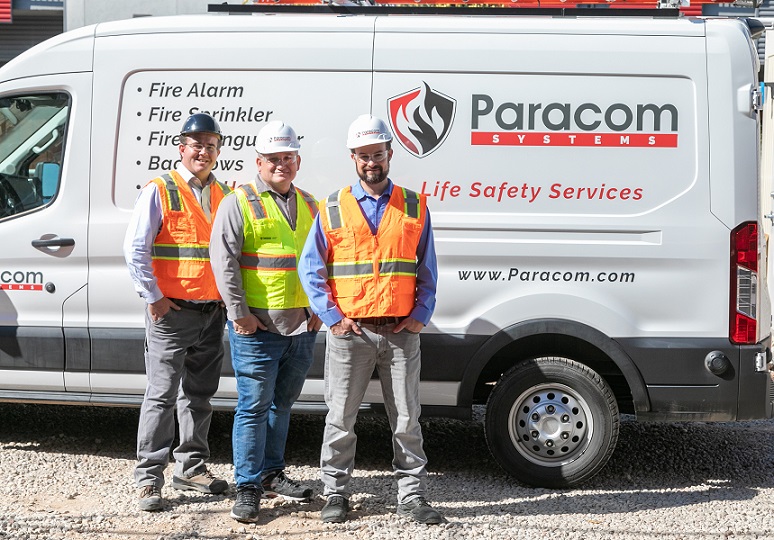 Setting the Standards for Quality & Service
Your building's safety systems only serve to protect your assets if they're in proper working order. That's why it's important to have your systems inspected, tested, and maintained regularly by licensed inspectors. Paracom is a singular solution provider for these systems.
Based in Englewood, Colorado, Paracom Systems is a systems integrator that specializes in providing our customers a complete solution that is tailored to your needs, meets regulatory requirements, and is executed exceptionally by certified professionals. Our core focus is on fire and security design, engineering, installation, and service remediation and inspections.
Paracom provides system services to our commercial customers to ensure 24/7 protection of their properties. Our relationships with our customer base are built on deep commitment and our true desire to help, and every member of our team is dedicated to providing the best customer service, transparency and attention to detail to meet each facility's unique needs.
Our clients trust us to install or repair their safety systems because Paracom has a world-class team of NICET-certified technicians with unrivaled experience in fire alarm installation and service. Our experienced technicians are equipped with all of the necessary tools and equipment to complete installation, inspection and repair tasks.
Serving the Denver area for over 10 years, our team has combined system experience of more than one hundred years and has proven time and again that we can be trusted to provide reliable safety system services.
Paracom strives to provide exceptional service and prompt response to service requests. Our longevity can be attributed in part to our standard of service.
We use equipment and products from industry-leading brands. Quality and reliability are our end goals to keep our customers satisfied with a great experience and also to give them the assurance that they, and their property, are protected.
Most facilities have more than one safety system working together, our technicians will inspect all of your systems in a single visit at a time that's convenient for you and your business.
High-Level Solutions & Support For Your Facility
As Colorado's premier fire alarm, sprinkler system and security solutions provider, specializing in inspections, installation and repair, Paracom's team installs equipment from industry-leading brands with the expertise that allows us to provide the unparalleled support you expect and deserve.
Our UL-listed, FM approved monitoring centers located throughout the US allow us to provide industry-leading fire and security system monitoring services to help keep your facility safe and mitigate liability while also allow you to operate more efficiently and profitably.
Paracom is committed to fulfilling your facility's unique needs by providing world-class service and cutting-edge solutions, and our cloud-based technologies will help to ensure your facility remains safe and compliant with local municipality requirements.